For your information
You are being redirected to one of our divisional subsites which contains more detailed information on the required division. To navigate back to the main Invicta Group site, please click the link found in the footer at the bottom of the page.
Quick Quote
Contact David Learoyd
To get a quotation or arrange a free site survey - Call David Learoyd on
Current location:

UK
Or
Send us a message
Quick Quote
Contact David Learoyd
Current location:

UK
Send us a message
The installation of mobile racking solution into an area can greatly increase its capacity or free up a large proportion of floor space. All the aisle space of a conventional shelving layout can be utilised and the shelving condensed onto a mobile base. Invicta provides the most comprehensive, innovative and sophisticated range of high-density mobile shelving systems available.
Mobile racking storage units are standard racking and shelving components mounted upon mobile bases that run effortlessly on tracks which are laid onto existing floors. Operation is achieved by low effort action of the hand wheels located on each mobile racking unit. Electrically-driven controls are also an option, which allows for push-button operation of the system.
To access the required content stored within the shelving, the units are simply rolled apart to create an aisle in the desired location, allowing direct access to the item. Mobile racking is intrinsically more secure than open static shelving arrangements, as the blocks of shelving can be closed and secured to prevent unauthorised access.
Typical applications for wheel assisted mobile shelving and roller storage include:
● Libraries and archives within universities
● Public records offices and patient notes within Hospitals.
The main advantage of roller storage is the large increase in volume it gives when compared to static shelves. By eliminating the unused space between runs, this type of shelf compactor reduces the floor area that is required – thus allowing either more shelves to be fitted or a reduction in the space allocated to storage.
Mobile racking is an extremely flexible storage format, with the potential to be adapted, expanded or moved to suit your changing storage requirements. For more information about our mobile racking systems, a free quote or to discuss your business' needs, contact us today.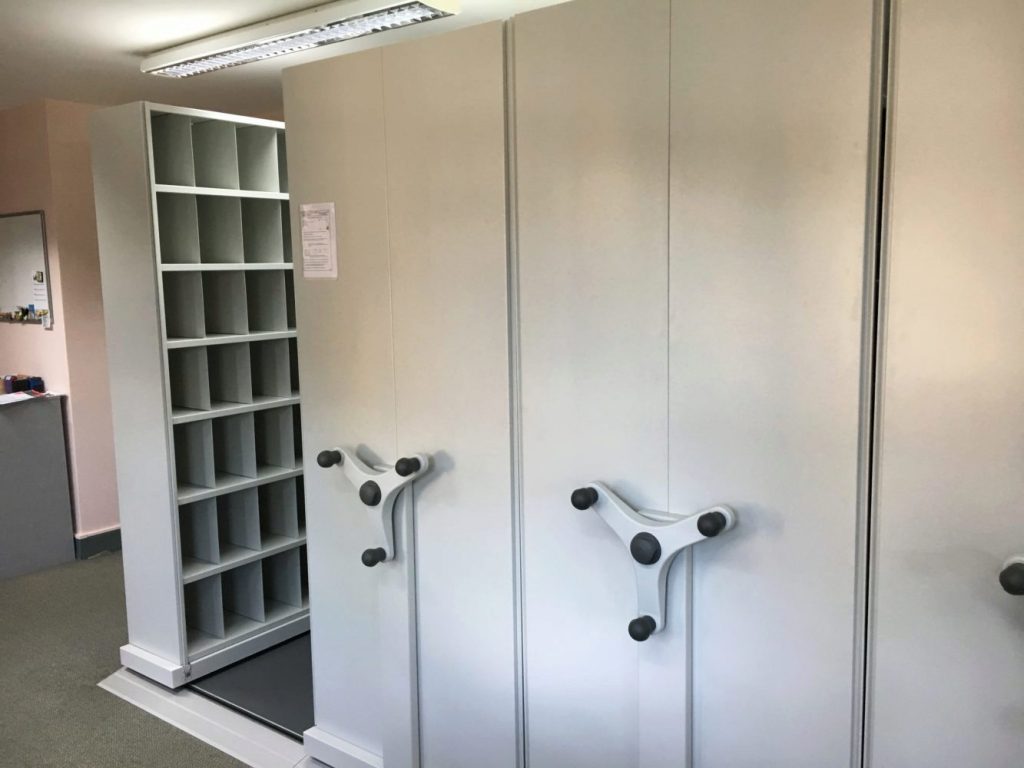 Want to start a project with us?
Drop us a line and some details and we'll get back to you as soon as possible.
Start your project
Tell us about your project. Please complete this form. One of our sales team will come back to you with more details. If you prefer, you can drop us an email.