Operating Theatre Storage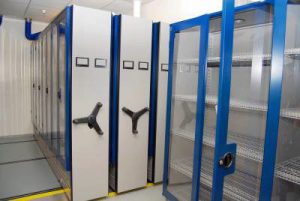 Time is of the essence when working in an operating theatre, and storage can play a major part in that. It's imperative that surgeons and doctors can access the necessary equipment quickly, and that it is stored both efficiently and safely, maintaining a sterile environment.
Whether you're looking for storage in an attending room or the operating theatre itself, Invicta Mobile Storage can help. Our mobile shelving is ideal for storing surgical tools and other items within operating theatres, keeping them secure and close at hand for rapid retrieval.
Mobile shelving works by placing shelving units on floor-mounted rails. The shelves are compacted together when not in use, keeping items safe from dust, damage or unwanted access. Compacting shelves removes the need for multiple aisles, saving as much as 50% of the space used by regular shelving.
Shelves can be accessed either using a hand crank or a motorised push button interface. Operation is smooth and easy with both methods thanks to our low friction rails, ensuring that the items inside are not jostled or damaged in any way.
The nature of Mobile Shelving means it is easier to keep clean. Units can be locked together to prevent dust from accumulating, while the shelves can easily be moved to clean underneath the unit. We also offer a range of mobile storage accessories to store a variety of items, and keep them clean and safe within the shelving.
Invicta Mobile Shelving has a legacy of successful projects within the healthcare industry, including work with several NHS surgeries and hospitals. For more details about our Mobile Shelving, a free site visit or any other information, get in touch with us today.