Secure Document Storage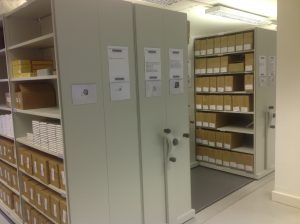 At Invicta Mobile Shelving, we believe that the key to safeguarding your future is securing the present. Security has been the key component of our storage solutions for more than 30 years in the business, and it's still at the very heart of our design philosophy today.
While our clients all benefit from the efficiency savings of our high density storage, many come to us through the necessity of protecting valuable documents and items. Government agencies and businesses have a mandate to keep data secure, while other items might hold sentimental value, be extremely fragile, or harbour vital trade secrets.
Our secure storage solutions go beyond a lock and key. Working with a dedicated Project Manager, we'll get to know the unique requirements of your project, culminating in a free site survey. Our designers and engineers will then design your storage solution from scratch, harnessing your space to create a secure and accessible secure storage unit.
Our legacy of quality projects has made us a leading name in secure storage, and a trusted partner of numerous notable businesses. Our secure storage clients include:
● Abbott Laboratories
● Forestry Commission
● Pfizer Pharmaceuticals
● Rizon Jet
● Royal Society for the Protection of Birds (RSPB)
● And many more!
The safety and confidentiality of documents can be put at risk by traditional static shelving and lockers, which are open facing and susceptible to being left unsecured. By contrast, our 'concertina' like mobile shelves lock together, with access provided by a manually assisted crank or electronic interface. We can also offer a range of additional security options depending on your individual requirements.
Our mobile secure storage can be adapted to suit any sized space or items, and can be easily relocated, making it ideal for classified files, contracts, invoices, receipts, purchase orders, legal records and more. Each storage option can be customised with a variety of finishes, and is capable of fitting the same amount of documents in 70% of the space of static shelving.
To find out more about how secure mobile shelving can protect your valuable documents, or for more information on our other storage options and projects, get in touch with us today.