Space Saving Solutions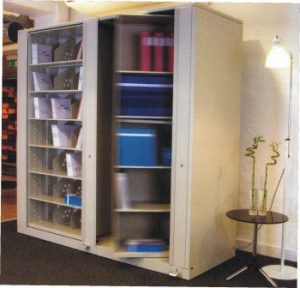 Regardless of the on-line transition of documents, correspondence and records the working office still prefers the hard copy office filing, an archive of records and accounts and a physical library of information. Over time this has creates a demand on office space and good housekeeping.
In order to manage these collections and offer a good utilisation of the available space, a designed shelving system can be a lot easier and cost-effective that than a bigger office!
Invicta's approach to efficient space utilisation is to look at the collection accrued, the frequency of access, its future expansion and the demands of security. We then look at the area footprint your storage collection is allocated and by the smart use of the solutions we provide, can create either more efficiently use the area to minimise this footprint or use the same area to create additional storage capacity for future growth. Invicta range of mobile, slide-a-side & rotary shelving systems are provided to utilise any given area and are designed around your requirement.
Using a typically seen scenario as an example. Many offices use filing cabinets that are, at most, 4-drawers high and the top of the cabinet is good for the proverbial odd box or plant-pot. The reason filing cabinets are only 4-high is the retrieval of their contents that requires the drawer to be extended and file picking from above. It's not ergonomic to be pulling drawers open & picking from them above 4-high hence the usual poor utilisation of space above. Invicta can provide a storage solution that converts the suspension filing offered by filing cabinets and convert these to a lateral filing system.  These storage bay solutions allow the contents to be accessed from the side rather than above meaning instead of four tiers of storage we utilise the height and provide six, seven or even eight tiers of storage. If you then condense these storage bays onto a mobile shelving configuration that utilises aisle space for storage space, suddenly your storage area can be considerably reduced by a vast amount of additional storage is created within the same area.