Lloyd George Patient Notes Storage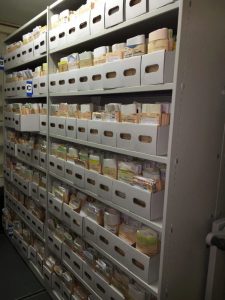 In more than 30 years of operations, one client we keep coming back to is the NHS. Through projects including Gossops Green Medical Centre and The QEQM Hospital, we've delivered projects that accomodate the service's unique budgetary and legacy requirements. Of these, there are few better embodiments than Lloyd George patient Note storage.
Lloyd George Patient Notes are a common storage media for doctors' surgeries and health centres. As large amounts of personal data are collected and stored in patient notes every day, patient notes tend to fall under strict legal and ethical obligations and confidentiality.
In this scenario, secure and efficient storage of these many notes is of paramount importance. Our custom designed and built system has proven pedigree for the storage of these sensitive documents, providing easy access and secure locks to prevent unauthorised access.
Invicta Mobile Shelving's Lloyd George patient notes storage system is an ideal solution for the secure, high-density storage of Lloyd George patient notes. Operating in a similar fashion to our other mobile racking systems, the Lloyd George storage shelves are mounted on floor rails. A crank or electrical system is used to create an aisle between shelves, minimising the space required for multiple aisles in a static system.
Our Lloyd George patient notes shelving has been specially designed to suit this unique format. Clients have the option of either a narrow shelving system adapted to the size of the notes, or a deeper system catering to multiple pull-out storage boxes. We'll work closely with your business or institution to deliver a solution that's perfectly suited to your individual requirements.
After discussing your fit-out needs and gaining an understanding of your operations, we'll produce a space plan to determine the most effective storage solution. This is achieved through our free site survey and space planning service, which is available to every customer. Clients on average increase their storage space by 70% when using our Lloyd George system.
To learn more about our Lloyd George patient notes storage system, or for more information about our other storage solutions, contact us today.