Laboratory Research Storage Solutions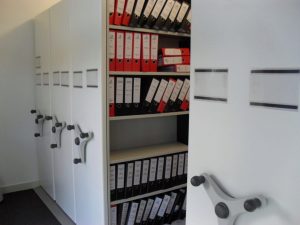 At Invicta Mobile Shelving, we understand that it is crucial to clearly tell apart and securely store labels of products, drugs or chemical substances that are medicinal, corrosive, flammable or toxic.
The improper storage or mixing of such labels can result in serious incidents and injuries. Yet most storage solutions are designed to store regular office supplies and documents, and poorly adapted to storing laboratory tools, instruments or chemical products safely.
Our secure label storage solution clearly and securely stores your labels allowing you to distinguish between – and correctly retrieve – your labels that look similar across multiple versions of the same product, or across multiple products within a company's product line. What's more, our secure label storage solution can save you money and floor space, innovatively increasing your storage capacity by as much as 50%.
We offer a diverse range of products, from highly functional mobile storage systems to compact high-density racks, doubling your storage capacity, integrating optional safety and security features to protect specific equipment and dangerous laboratory products. Being customisable to suit pharmaceutical company applications of all types, the possibilities are endless.
Our pharmaceutical storage solution is not only secure and utilises available space more efficiently, our pharmaceutical storage solution is also sensible in that it is designed with practicality and staff usage in mind. We can ensure that label storage shelves are not so high that workers need to access them via the benches or lab chairs, or by keeping infrequently used labels on the higher shelves.
We can provide expert solutions and design options for expanding your pharmacy's growing storage needs or reconfigure your current pharmaceutical storage set-up in order to achieve new space saving solutions.
Whatever the scope of your project, we will design and install a mobile shelving solution to:
● Free up valuable storage space
● Increase your secure label storage efficiency
● Store the same in 50% of the space available
● Double the capacity of your secure label storage
● Offer you a selection of systems specific to your secure label storage requirements
● Offer you a range of operating systems which can be manually assisted or electronically controlled
To find out more about our past secure label storage projects, or to learn more about what we can do for your business, get in touch with our advisors today.