For your information
You are being redirected to one of our divisional subsites which contains more detailed information on the required division. To navigate back to the main Invicta Group site, please click the link found in the footer at the bottom of the page.
Office Storage Solutions Affordable | Organised | Contemporary
To get a Quick Quote or arrange a Site Survey -

Call

David Learoyd

on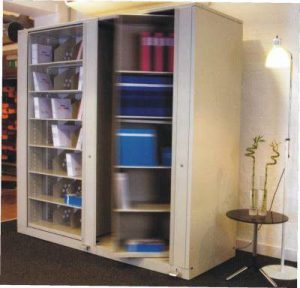 Having installed countless office storage solutions, we still find that every project has its unique aspects. Across more than 30 years of operations, we've catered to every sort of office, and every possible storage requirement. Our experience will help to maximise the potential of your space, delivering a cost-effective and top quality storage solution.
Whether you're an insurance company or law firm swamped by documents and reports; a hospital or clinic grappling with patient files; or an organisation stacked with books, lever arch files and office equipment, we have the solution to suit you. Our turnkey service means we'll work closely with your organisation to assess your needs, and design your storage from scratch.
Our high density mobile shelving is the perfect replacement for static shelving, storing the same amount of items in 70% of the space. Our rotary and slide-a-side systems meanwhile offer a perfect solution for narrow corridors and walkways, offering easy access for the regular withdrawal of documents and items.
All of our storage systems feature advanced locking mechanisms and a range of security options, making them ideal for the storage of sensitive documents and other items. Our mobile shelving meanwhile features either a manually assisted crank or push-button access, with aisle widths adaptable to different access requirements.
Our specialist designers will deliver a detailed layout and quotation, giving you a precise picture and costing for the finished product. Our storage systems are highly adaptable and relocatable, and boast a wide range of finishes and optional extras. Your unique office storage solution will fit seamlessly into its surroundings, and be installed with the minimum of disruption and fuss.
For more information on how our office storage solutions can enhance your space, or for further details on our past projects and storage options, get in touch with us today.
Accreditations & Affiliations