Library Mobile Shelving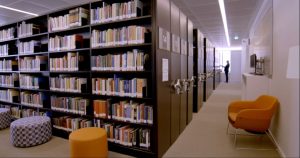 With over 25 years of industry experience, we understand that library books and archive collections will spend much more time in storage than in any other form of use.
We appreciate the importance of storage strategies in a library's overall preservation plan, which is why we have designed and developed innovative solutions to optimise library storage capacities.
Our library book storage system securely stores and efficiently organises all types of reading materials in your library, from literary novels, bestsellers, fictions and short stories to biographies, dictionaries and encyclopedias. We also have library storage solutions to manage your periodical and multimedia collections, plus administrative materials from files to book carts.
Invicta Mobile Shelving's library storage system can be configured to a library's diverse book storage needs and is a safe, efficient, high-density solution designed for libraries.
Our library storage solutions are designed to:
● Maximise your library's storage capacity within the given area
● Reduce the number of access aisles required within the library
● Improve the security of library collections as bays can be locked
● Fit shelf sizes that are standardised for library and archive collections
For efficient use of library space, traditional and vibrant designs, customised to fit your Library's storage area, reach out to our mobile shelving specialists for immediate assistance, and we be happy to answer your questions.