For your information
You are being redirected to one of our divisional subsites which contains more detailed information on the required division. To navigate back to the main Invicta Group site, please click the link found in the footer at the bottom of the page.
Archive Storage Archive | Historical Document | Storage
To get a Quick Quote or arrange a Site Survey -

Call

David Learoyd

on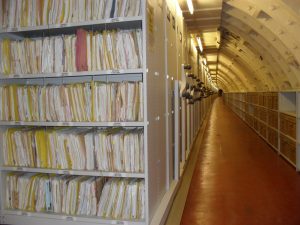 Archive storage is a speciality that we've honed over more than 30 years of operations and innumerable archival projects. Each unique case has brought its own challenges, and required bespoke solutions. As a result, we are able to offer mobile archive storage for any occasion, from more casual temporary storage to the preservation and security of priceless documents.
Our turnkey service involves a free site visit, ensuring that we build a full picture of your individual storage requirements. We will then design, build and install your mobile storage to precise specification, whether you're looking to store archive documents, wills, deeds, drawings, records books, maps, plans, photography or something else entirely.
Our reputation for quality mobile archive storage has led to an impressive list of internationally renowned clientele. We have carried out archive storage projects for:
Bank of England
British Broadcasting Corporation (BBC)
British Medical Association (BMA)
English Heritage
Her Majesty's Revenue & Customs
Royal Society for the Protection of Birds (RSPB)
Tesco
And many more!
Our high density mobile storage is efficient, cost effective, secure and easily accessible. Our 'concertina' mechanisms eliminate the need for multiple aisles between shelves, storing the same number of items in 70% of the space. The units are lockable to prevent unauthorised access, and can be operated either manually or with an electrical push-button interface.
Our archive storage specialism allows us to provide storage for the most delicate of documents. From historic and valuable documents requiring stable environmental conditions, to storage repositories, search-rooms, reading rooms and display areas, our experienced specialists will work directly with your business or institution to identify and address your specific requirements.
To learn more about how our mobile archive storage could help your business or institution, or for more details on our other storage solutions, get in touch with us today.
Accreditations & Affiliations