Application
Patient note storage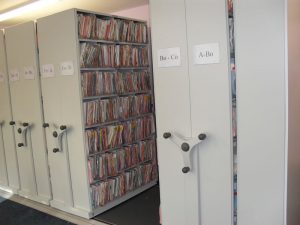 Invicta's mobile shelving division was recently challenged with condensing the footprint of the existing patient note storage area whilst increasing the overall storage capacity at Gossops Green Medical Centre in Crawley, UK.
Invicta's solution was to supply a completely new mobile shelving system within a short lead-in time to meet the deadline of the new surgery being completed and opened.
The existing patient note collection was a carefully managed, secure collection which needed to be located within easy access of the office staff, but not reduce their workable office space. The existing collection was also almost full to capacity, meaning that although a smaller footprint area using mobile shelving was required, a larger overall storage capacity was essential.
Within 24 hours of receiving the initial enquiry, a design proposal for a new mobile shelving system for the patient notes was offered to the client, which would result in more patient notes stored in a smaller overall footprint, specifically designed around the available and usable space in the office. The design and system were also managed within a tight NHS budget.
Within 2 weeks of approval, the new mobile shelving system was supplied and installed to meet the deadline of the new surgery opening, every element of the design criteria and within budget.