Medical Record Storage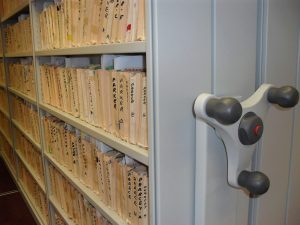 One of the most common queries we receive from medical institutions is for innovative mobile storage for medical records. Despite the growing reliance of the NHS and private institutions on digital records – and perhaps because of cybersecurity risk – hospitals, surgeries and health centres continue to require physical storage for patient records and information.
Invicta Mobile Shelving has been providing medical records storage solutions to a variety of clients for more than thirty years. Our experience guarantees that our mobile storage will fulfil all security, compliance, regulatory and statutory obligations. From notes generated by hospital personnel to GP and public health notes, we provide secure storage that's readily accessible.
Our complete turnkey service includes a free site visit, ensuring that we gain a complete picture of your unique storage requirements. We can then deliver a custom designed and built storage option that's durable, secure and fit for purpose. All of our shelving is highly customisable, with a range of sizes and finishes, and can be operated either manually or with push-button control.
Our high density mobile storage can significantly increase your efficiency, both in the storage and retrieval of patient records. Our clients find that they can store the same number of records in 70% of the space of a static shelving option. Our storage options are also adaptable and easily relocatable, making them an ideal investment for the long term.
To learn more about how a mobile storage solution could improve your efficiency, or for more information on our Lloyd-George patient notes storage and other solutions, get in touch today.