For your information
You are being redirected to one of our divisional subsites which contains more detailed information on the required division. To navigate back to the main Invicta Group site, please click the link found in the footer at the bottom of the page.
Component Tools Parts Storage Workshops | Factories | Warehouses
To get a Quick Quote or arrange a Site Survey -

Call

David Learoyd

on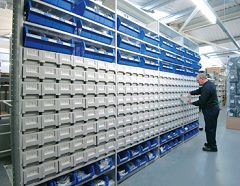 One of our most varied lines of enquiry is for component tool parts storage. The mobile storage solutions must be custom built to handle hundreds of parts, components and tools, sometimes within a single industry or sector. A great component tool parts storage system needs to be rugged, efficient and highly accessible, making it quick and simple to find the smallest item.
Our component tool parts storage solutions tick all of these boxes and more. With more than 30 years of experience in mobile storage, we've catered to every kind of business and every size of item. Our turnkey service allows us to design, build and install a component tool parts storage system that's perfectly suited to your business, and melds seamlessly into your space.
We've helped warehouses, storerooms, factories, workshops, garages, offices and vans to improve their organisation and increase efficiency. With a dedicated project Manager and free site survey, we'll gain a full understanding of your specific requirements. We'll then deliver an integrated storage system that's high density and hard-wearing, boosting your capacity while reducing space in comparison to static shelves.
Our storage solutions come in a variety of sizes and finishes, and are both adaptable and relocatable, making them ideal for future expansion. We can cater to anything from nuts and bolts to components and tools to maintenance spares and materials – making stock management and rotation, parts despatch and re-ordering a far more logical process.
To learn more about how our mobile storage solutions can enhance your operational efficiency, or for more information on our past projects and other products, get in touch with us today.
Accreditations & Affiliations