Rotary Storage System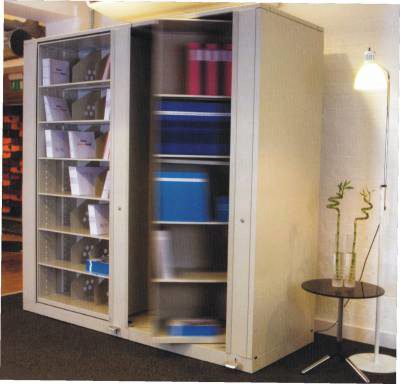 Having spent more than 30 years working with a variety of businesses, we know that office storage isn't just about saving space: our clients also want to save time, and to match the fixtures with their decor. Our custom designed rotary storage systems tick all of these boxes – offering a sleek, protective and efficient storage option that will look good in any office.
Our innovative rotary storage system enhances the process of retrieving files and documents. The high density shelving unit rotates on its axis while the operator stays still. Once the file has been retrieved, the operator simply rotates the shelving unit back into place. Access is faster and more enjoyable – perfect for high traffic areas and frequently accessed files.
As the rear of the shelving unit sits flush with the edge of the cabinet, no door is required. This saves a significant amount of space in front of the shelves, making them ideally suited to small offices, or narrow areas such as corridors. The unit can also be locked in this position, preventing unauthorised access and keeping files dust free.
We offer a range of rotary storage systems, designed to cater to every kind of space. Our turnkey service allows clients to choose from our regular axis rotary storage, low rotary storage or premium wave rotary storage systems, and customise them to fit their space and operational requirements.
Our modular designs ensure that every unit is 100% relocatable, while steel casing means we don't skimp on strength or quality. Installation is quick and hassle-free, while a range of colours and complementary accessories ensures seamless integration into your space. Efficient, enjoyable and enticing, our rotary storage is perfect for any office space.
For more information on our different kinds of rotary storage system, or to learn how rotary storage can improve your business, contact us today.