Mobile Shelving System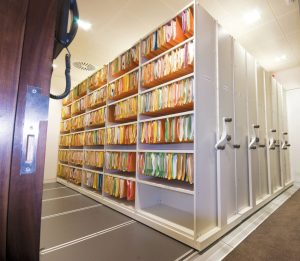 Mobile shelving is a high-density storage arrangement that offers an upgrade on traditional shelving. By compacting shelves together, mobile shelving completely eliminates the additional aisles of a conventional static shelving layout. The space saved on aisles is utilised for  additional storage space, offering a more compact and efficient storage solution.
Mobile shelving units are standard shelving components mounted upon mobile bases. With either simple hand-crank or push-button operation, these shelves run effortlessly on tracks laid onto your existing floors. To access any shelf, you need only to roll the units apart in a 'concertina' motion, creating an aisle for direct access to your items.
Invicta Mobile Shelving has been delivering bespoke mobile shelving solutions for over 30 years. During that time we've become incredibly conscious of the unique requirements of a variety of businesses. Our mobile shelving is designed and built to order, and can be adapted to store a variety of items in safety and security.
One of the great benefits of mobile shelving is its increased security compared to static shelving. The ability to closed and secure our shelving units prevents any unauthorised access, making them perfect for the storage of valuable or sensitive materials. Mobile shelving can be used for any storage application, including:
Product control samples
Foodstuffs
Frozen applications
Anti-static computer components
And many more!
Our mobile shelving systems are highly versatile, and can be installed on any floor type. As they are totally free standing with no fixings, there is no chance of damage to walls, floors or floor coverings. We'll work with your business to ensure that disruption is minimal during the installation process, and can upgrade and maintain your shelving if required.
Plus, thanks to their modular construction and built-in flexibility, mobile shelving can be easily extended, reconfigured, or even relocated to entirely new premises. Put simply, our mobile shelving units are an asset in the short and long term, and an upgrade for any business.
Click the link to see a full range of our mobile shelving solutions and applications, or contact us today to see what we can do for your business.