Pull-out Suspension Filing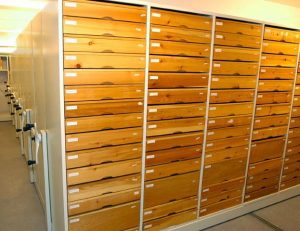 Pull out suspension filing cradles, more commonly found in 4-drawer filing cabinets, can be stored in our Classic and Avant Garde Canterbury ranges of mobile shelving when used with the pull-out suspension rail accessory. Each shelf can be up to 1.2m wide, so each suspension level can be twice the capacity of a filing cabinet drawer.
Suspension File cradles accept files normally stored in 4-drawer filing cabinets or deck pedestals. The contents of pull out suspension files are withdrawn from above so they are usually on tier no higher than four high. Four-drawer filing cabinets do not utilise the available height but using a pull-out suspension file cradle at the bottom of the shelving system allows for normal on-shelf storage above making much more use of the available space compared to filing cabinets alone.