Canterbury Single-Skin Shelving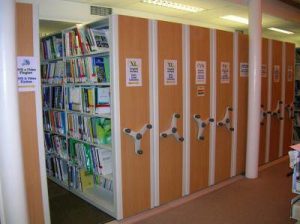 For cost-effective, multi-purpose mobile shelving, look no further than our Canterbury Classic range. This in-house line has been specially developed to fulfil an all purpose remit covering our most common enquiries, and offers unparalleled utility at a highly competitive price.
The Canterbury single-skin shelving range consists a single-sided upright construction mobile shelving system, with a delta-edged post design. It is easily adjustable and available in a variety of sizes, making it perfect for most office and general purpose storage applications.
The Canterbury single-skin range is our most popular mobile storage solution, and an ideal all-purpose option for most offices, libraries and archive storage applications. Functional and flexible, our classic range of high density mobile shelving will represent a substantial upgrade on your static units, and a cost-effective investment for your business.
To find out how your business could benefit from a Canterbury single-skin shelving solution, or to make an enquiry about upgrading your storage, contact us today.