Canterbury Double-Skin Shelving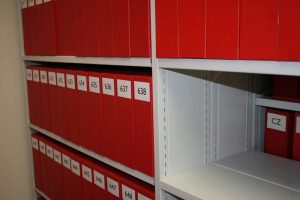 If you're looking to add more flexibility or simply more style to your mobile shelving solution, you may prefer our Canterbury double-skin shelving range. These avant-garde units have been specially designed to complement our single-skin solution, and combine its functionality with innovative features and a timeless aesthetic.
With a double or twin walled construction and independently adjustable shelves, the double-skin range of mobile shelving is built for strength, style and versatility. Concealed fixings, unobstructed apertures and a clean front line allow shelves to be adjusted without any protrusions, making them aptly suited to the protection and conservation of delicate items.
Our Canterbury double skin range of mobile shelving is ideal for outward facing shelving solutions, where style is a more conscious factor. They're also commonly deployed by clients seeking secure and easy archive storage, where the lack of obstruction is critical to proper preservation.
To find out how double-skin mobile shelving could benefit your business, or for more information on mobile shelving and storage solutions, get in touch with us today.