Pharmaceutical Sector Storage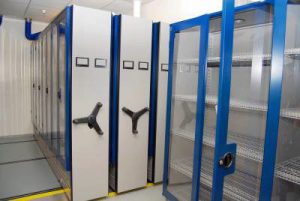 For pharmaceutical companies, finding the right storage solution to address its needs is not easy, especially when your requirements must be met with solutions that accommodate not only regular office supplies and documents but also expensive and delicate materials such as laboratory tools, instruments and chemical products.
We offer a diverse range of products, from highly functional mobile storage systems to compact high-density racks, doubling your storage capacity, integrating optional safety and security features to protect specific equipment and dangerous laboratory products. Being customisable to suit pharmaceutical company applications of all types, the possibilities are endless.
We can provide expert solutions and design options for expanding your pharmacy's growing storage needs or reconfigure your current pharmaceutical storage set-up in order to achieve new space saving solutions.

Our pharmaceutical storage solution is not only secure and utilises available space more efficiently, our pharmaceutical storage solution is also sensible in that it is designed with practicality and staff usage in mind. 
Contact Invicta Mobile Shelving today to discuss your organisation's specific storage requirements and let us help you improve productivity and performance with our innovative storage solutions that maximises storage capacity and easily adapts to your pharmacies changing and growing requirements.