Office Work Space Storage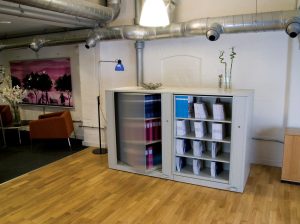 With 25 years of experience, we understand that organisation and structure are essential in any business environment, and just about every business will require some form of office file storage system to store or shelve its company files and records.
From insurance companies and law firms requiring additional storage space for documents and reports, hospitals and clinics struggling to find space to store patient files, or organisations requiring an office storage system suitable for books, lever arch files, printer inks and general office equipment, our secure and attractive office file storage systems can be tailored to suit your business and office environment.
Our designers deliver a detailed layout and quotation to show you exactly what your office storage solution would look like and how much it would cost. With a wide range of finishes and optional extras, we work closely with you to create practical, well-organised, space-saving solutions.
Considering our experience in office file storage systems, we understand the importance of confidentiality and placement of every document and offer our customers the most advanced office storage system that brings a sense of control and comfort to your office workspace. 
Contact Invicta Mobile Shelving today to discuss your company's specific storage requirements and let us help you improve productivity and performance with our innovative storage solutions that maximises storage capacity and easily adapts to your business's changing and growing requirements.