NHS Sector Storage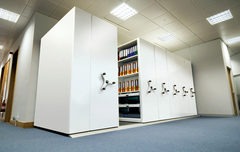 Hospitals are hectic, demanding environments where the organisation of an extensive range of tasks is a continuous challenge – new patients, managing patient records, classifying and administering medications, there is a constant stream of vital and sometimes lifesaving responsibilities that need to be carefully completed.
Invicta Mobile Shelving storage solutions are designed specifically for the National Health Service (NHS), giving hospitals and medical centres the edge by simplifying and streamlining operations, helping staff focus on what matters most – treating patients.
Over the past 25 years, we have offered a variety of cutting-edge filing, shelving and mobile storage solutions to the NHS that have helped hospitals improve their service delivery by improving their storage methods.
In today's fast-paced and demanding hospital environments, each operation and task is geared toward one critical mission – delivering effective, rapid and safe care and services to patients.
Whether a long-term facility or a walk-in clinic, our storage solutions have helped achieve this mission.
Contact Invicta Mobile Shelving today to discuss your organisation's specific storage requirements and let us help you improve productivity and performance with our innovative storage solutions that maximises storage capacity and easily adapts to your hospital's changing and growing requirements.