Doctor's Surgery Storage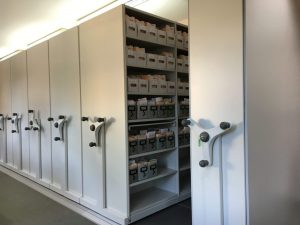 Invicta Mobile Shelving has worked extensively with healthcare centres and doctors' surgeries for the past 25 years, providing a wide range of mobile storage solutions for their specific requirements.
We have helped hospitals deliver more efficient, dedicated patient care with our range of high-density healthcare storage solutions that are well-matched to different healthcare functions, especially in today's complex and demanding health centre and hospital environments.
We custom-build our doctor's surgery storage solutions to cost-effectively meet a healthcare centre's specific storage requirements, increasing its available storage footprint.
Invicta Mobile Shelving storage systems are available in various sizes, with professional designs and a full installation service that conforms to best practices in space planning and design.
Give your health care facility's storage a boost in productivity, reach out to our mobile shelving specialists for immediate assistance and we'll happily answer your questions.