For your information
You are being redirected to one of our divisional subsites which contains more detailed information on the required division. To navigate back to the main Invicta Group site, please click the link found in the footer at the bottom of the page.
Medical X-ray Storage Regulated | Clinical | Storage
To get a Quick Quote or arrange a Site Survey -

Call

David Learoyd

on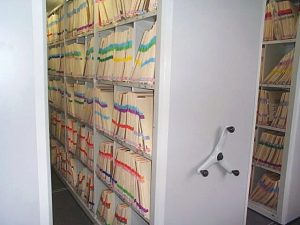 A significant part of our extensive work in the health sector has been the design of X-ray storage. A great medical X-ray storage system should protect these films, while also maximising storage space and minimising the time taken to locate records. The last aspect in particular often goes out of the window, as the supply of records exceeds the space delegated for them.
Invicta Mobile Shelving has used more than 30 years of experience to create the ultimate medical X-ray storage solutions. Our mobile shelving units offer comprehensive protection to these sensitive documents, without compromising on efficacy. Our medical X-ray storage can hold the same number of documents as static shelving in roughly 70% of the space.
Our medical X-ray storage has been designed specifically for – and been adopted by – hospitals, clinics, diagnostic imaging centres, emergency rooms and physicians' offices. Each facility has its unique challenges, and our turnkey service ensures that we'll overcome them. We'll conduct a free site survey, and work closely with your institution to design the ideal storage system.
Our mobile shelving systems operate using a 'concertina' like system. Each shelving unit is mounted on parallel rails, allowing the user to create an aisle between two shelves. This eliminates the need for multiple aisles, while still retaining the ease of access provided by a traditional static shelving layout.
With specialist experience in custom X-ray storage systems, Lloyd-George patient notes storage and many other medical storage solutions, Invicta Mobile Shelving has a legacy of addressing the unique pressures of both private and public health services. Our storage options will ensure that your X-rays remain clearly organised and convenient to access, even as their numbers grow.
For more information on how our medical X-ray storage can enhance your institution, or for details on our past projects and other storage options, get in touch with us today.
Accreditations & Affiliations