For your information
You are being redirected to one of our divisional subsites which contains more detailed information on the required division. To navigate back to the main Invicta Group site, please click the link found in the footer at the bottom of the page.
Medical Centre Storage Medical Files | Records | Patient Notes
To get a Quick Quote or arrange a Site Survey -

Call

David Learoyd

on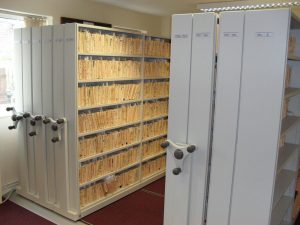 In more than 30 years of operations, one of our favourite recurring clients has been the NHS. In the course of our work for the health service and a number of private healthcare facilities, we've gained a wealth of experience in attending to the unique requirements of each client, and delivering quality with a conscientious budget.
Invicta Mobile Shelving is well-practiced in creating custom storage for medical centres and surgeries. With a free site visit and close working relationship, we will craft a bespoke storage solution tailored to your specific needs. Our turnkey service means we design and build our storage solutions in-house, and fit them with minimal disruption to your operations.
Our medical centre storage solutions can encompass storage and access for both patient information and clinical products, with dimensions to suit your space and storage needs. Our mobile storage has been employed in a variety of departments and disciplines within hospitals and surgeries, offering equivalent storage to static shelves in as little as 70% of the space.
Our medical centre storage systems are available in a variety of sizes and finishes, and can be either manually or electrically operated, ensuring complete accessibility. Our storage solutions are also fully compliant with all healthcare and safety regulations, making them perfectly suited to your next storage project or upgrade.
Whatever the scope of your project, we will design and install a mobile shelving solution to:
Free up valuable space in your Medical Centre
Increase your Medical Centre's storage efficiency
Store the same in 70% of the space available
Offer you a selection of systems specific to your storage requirements
Offer you a range of storage systems that can be manually assisted or electronically controlled
Includes a free onsite survey and a dedicated project team
To find out how our mobile shelving and storage solutions could enhance your facility, or for more information about our Lloyd-George patient notes and other storage options, get in touch with us today.
Accreditations & Affiliations