For your information
You are being redirected to one of our divisional subsites which contains more detailed information on the required division. To navigate back to the main Invicta Group site, please click the link found in the footer at the bottom of the page.
Library Book Storage Shelving Library Books | Periodicals | Journals
To get a Quick Quote or arrange a Site Survey -

Call

David Learoyd

on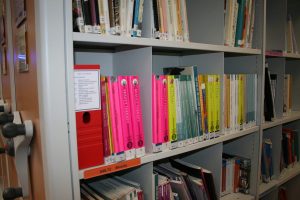 Few institutions have a more obvious or pressing need for effective storage than libraries. Static shelving limits the space available for books, meaning that titles must be rotated out as new ones come in, or warehoused and made available to order. Mobile library books storage offers an effective and efficient solution, allowing your library to store more books in less space.
Invicta Mobile Shelving's library book storage system provides high density storage that's also secure and accessible. Our 'concertina' like system allows parallel shelves to be moved apart on rails, eliminating the need for multiple aisles. Access is available either by manually assisted operation or an electrical mechanism, with variable aisle sizes for different access requirements.
Our turnkey service allows us to deliver library book storage projects from design to execution. You'll receive a free site visit from our expert designers and project manager, helping us to gain a full understanding of your unique requirements. We'll then design, build and install a storage solution that's cost and space efficient, and matches seamlessly with your existing decor.
The Invicta Mobile Shelving library book storage system is capable of freeing up half the area usually dedicated to static shelving layouts, or creating twice the library book capacity within the same footprint. Mobile shelving is ideal to free up space for additional books or for other areas, such as for IT workstations, relaxation, exhibition or study.
Our vast experience across more than 30 years of operations means we can accommodate the most delicate items, and the most specialised projects. We can design storage that's specially adapted to uniquely sized books, environmentally controlled for rare documents, and securely protected against unauthorised access. We also offer a range of colours and finishes, fit for the most traditional and modern of spaces.
To find out more about how our library book storage could increase your efficiency, or to learn more about our other storage options and projects, get in touch with us today.
Accreditations & Affiliations